A Bold New Design
Originally conceptualized in 2010 and after years of

research and obstacles, here it is: The Glacern Modular Vise.

Our goal was to create a product unique in its applications and

functions while maintaining original concepts and utility.


The 6.0-inch "GMV-EAGLE" Modular Vise
Square Drive™ Technology.
Convenient, Simplistic.
Always misplacing your traditional vise handle?

Every Glacern Modular Vise is equipped with

Square Drive, our patented unique leadscrew featuring

an internal square drive, making it fully compatible

with any standard socket wrench, breaker bar,

or quick-spin handle.
No more fumbling around to find your missing

vise handle, the GMV's innovative design has you

covered. Simply insert your socket wrench and go!
1/2" internal square drive
Your Choice of 2 Different Leadscrews
SquareDrive Screw
- for users who want to use a 1/2" socket wrench

- also works with breaker bars and quick spin handles

- flush design, nothing protrudes

- static vise footprint


Hexasquare Screw
- for users who prefer traditional vise handles
- you can also use a 1/2" socket wrench

- best of both worlds

- screw is longer for more reach
Multiple Mounting Options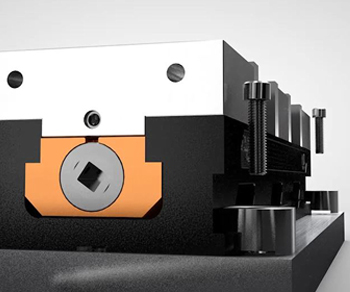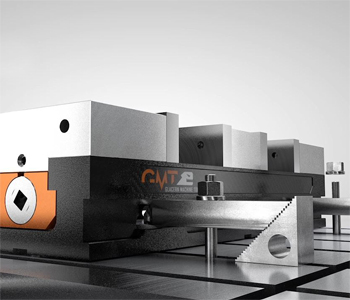 Use Toe Clamps.
Toe clamps offer a simple and strong way to mount your vise to the machine table. Two or more clamps should be used on either side of the vise. Tighten screws to a minimum torque of 50 lb-ft. More torque and additional clamps (available at the Glacern.com online store) may be necessary under heavy cutting conditions.
Use Step & Block Clamps.
Your GMV Vise is also compatible with fixturing clamp sets already found in most machine shops. If you have a Step & Block Clamp Set, then you're already prepared to affix the Glacern Modular Vise to your machine table. The three holes on the side of the vise provide a secure place to clamp down the vise. These holes also double as a convenient way to grip and pick-up your vise, and they also function as chip evacuation ports while machining.
Hello, meet Cage Lock
Innovative Quick Change Fixturing.
You don't need a new machine tool or new CAM software to help increase productivity and throughput, all you need is the Glacern Cage Lock™ System, our innovative quick fixturing system. Interested in fast, repeatable set-up changeovers? Cage Lock can help. It starts with the Cage Lock itself -- the industry's most cost-effective zero point mounting system -- which houses an array of retractable hardened spheres. The Cage Lock cylinder body fits into a Cage Dock ring, and when activated -- the two are joined with a massive 10,000 lbs of holding force.
Triple Threat Handholds
Ergonomics are important when handling heavy materials. Weighing in at approx. 100 lbs, the GMV Vise can be a real beast to move around your shop. That's why we've included our patented ergonomic multi-purpose Triple Threat™ handle system. Three handholds on each side of the device allow you to effortlessly pick up the unit and let chips evacuate while machining. They're also the perfect place to use your step & block clamp set when installing your vise.